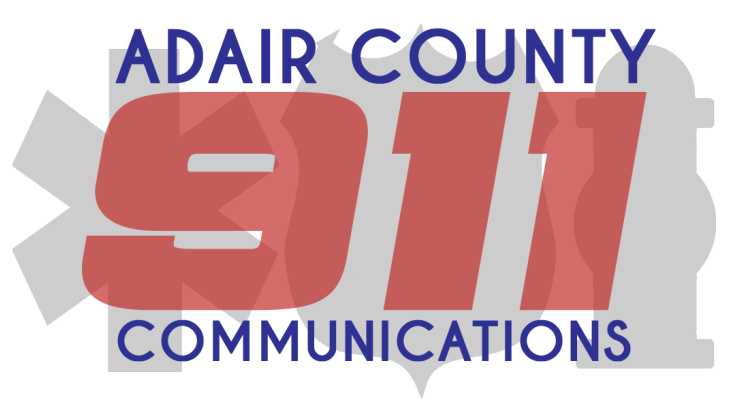 In February 2000, the Adair County Commission, Adair County Ambulance District, City of Kirksville and Truman State University entered into an E-911 Joint Services Agreement for the purpose of improving public safety, and to gain economy of operations, while maintaining, improving and coordinating the professional answering and processing of 911 emergency telephone calls in the parties' service areas.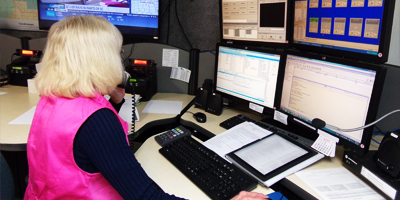 E-911 Services including 911 call answering, related dispatch processing, and notification services are provided to the Adair County Sheriff's Department, Kirksville Police Department, Kirksville Fire Department, Adair County Ambulance District, Truman State University Department of Public Safety, the Adair County Fire Department, the Greentop Fire Department, and the LaPlata Fire Department.






Mission Statement
It is the mission of the Kirksville/Adair County E-911 Joint Communications Center to answer all emergency and non-emergency calls in a prompt and courteous manner. Trained operators dispatch police, fire, and emergency medical units in an efficient and professional manner in order to help save lives, protect property, and assist the public in making safer communities.
Tips for Calling 911
Take a deep breath and speak clearly
The E-911 Joint Communications Center Dispatcher will ask important questions and the information you provide will be used to send the best assistance. The first question will be "what is your emergency?". In a calm and clear voice, explain the emergency. This will help the dispatcher decide what type of help to send.
Location, Location, Location
"Where is the emergency?" is the next question. You may be asked this question several times. If you don't know the exact location – address, and town – identify an intersection, landmark, large buildings, or street signs, to help the first respondents find you. The dispatcher may also ask for your phone number.
Listen carefully, answer slowly
The dispatcher will guide the conversation. Answer all questions clearly and completely. Even if it seems to be taking a long time, there is a good chance the help is already on the way.
Follow Instructions
The dispatcher may give you directions about what to do. Listen carefully and follow each step you are given. If you do not understand, ask for clarification.
Do not hang up until the dispatcher ends the call
Sometimes calls to 9-1-1 are abandoned (hang ups or silences). If a call is abandoned, it must be traced by emergency personnel, which can keep them from responding to an actual, real emergency. Do not prank call 9-1-1.
If you were put on hold, don't fret!
The dispatcher may be getting multiple calls on the same incident or accident. It is also possible that the dispatcher is working out the details of your emergency, or may need to transfer your call to another agency. No worries! The dispatcher is doing their best to assist!
When to Call 911
Call 911 when you are witnessing or experiencing an emergency such as a fire, a criminal act, or life-threatening situation. If you are unsure whether or not to call 911, error on the side of caution and call anyway! Explaining the situation to a dispatcher is always the safest option.
Call 911:
Call 911 to save a life or for injuries that need emergency medical attention.
Call 911 to report a fire, sparking electrical hazards, or hazardous chemical spills.
Call 911 to report a crime.
When to Call the Non-Emergency Number 660-665-5621
In the event you do not have an emergency but need to ask a question or speak to police. A dispatcher will do their best to point you in the right direction.
Auto theft not in progress
Parking Complaints
Loud music complaints
Barking dog complaints
Any crime to a person not life threatening
What Types of Questions will Dispatchers Ask?
When you call 911, the dispatchers will ask specific questions used to gather as much information as possible. This information will be used to help police, fire and EMS to fully understand the situation before coming to your aid. The more information emergency responders know, the faster they can come to your aid!
Basic
What is the location of the emergency?

If you don't know the exact address, let the dispatcher know, and describe:

Cross streets or landmarks

Business names or parks nearby

House numbers surrounding you

If calling inside a home, look for mail with an address

If hunting with GPS, offer coordinates to dispatcher.

What is the phone number you're calling from?

This is the number to the phone you're actually calling from. Dispatchers need this information in case they have to call you back for more information.

If you are not at home, do not provide a home phone number.

Make sure you know your cell phone number.

What is the problem?

Make sure you tell dispatchers exactly what the problem is, and exactly what happened. Be concise, and provide details of the actual situation, not what led to the situation.

Examples: "I see a fight on the corner of Broadway and West End", "My ex-boyfriend just kicked my door in", "There is a car accident at US highway 63 and State Highway 11".

Who is involved?

Are you involved or a witness? Provide the suspects name if you know, or provide a detailed description. Is the suspect still at the scene of the emergency? Or have the left? Provide as many details as possible to dispatchers. Things to describe include:

Name

Male or female, white/black/Hispanic/Asian

Short/tall-heavy/thin

Beard, bald, hair color and style of hair

Jacket, shirt, pants description

Boots, tennis shoes, sandals

Did they leave on foot or in a vehicle

Direction of their travel

Vehicle Information of Suspect

Color- was it light or dark

Year- newer or older model

Make/model- as specific as possible

Additional information- toolbox, window decals, bumper stickers, broken window, damage, etc.

License- plate number and state, even partial information can help!

What kind of clothes are you wearing? Will you be at the scene when respondents arrive?

Dispatchers may ask you these types of personal questions so that emergency respondents can find you at the scene and ask you additional questions that could help to save someone's life, or provide more insight into what happened.
Medical
When you call 911 for a medical emergency, dispatchers will ask you a series of questions to help them determine what the best course of action is for emergency respondents. The paramedics will be better prepared to help the patient if they have all the information you are able to provide. EMS can also help you by providing the proper steps to take until the paramedics arrive at the scene.
Some common information that is good to include:
Location of the patient at the scene of emergency

Address of emergency

If the situation is happening inside or outside

If you are with the patient, or if you merely saw an accident occur
Dispatchers may ask the following types of questions to help them assess the scene:
What is happening with the patient right now?

Do you know what caused the accident (fall, stabbing, history of health problems, etc.)

How old is the patient?

If you know the patient's exact age, tell dispatchers! If not, describe a general age frame (child, teen, young adult, middle aged, or elderly).

Is the patient conscious and breathing?

This is important for dispatchers to know, as it can indicate the severity of an injury and will alert EMS to respond accordingly.
Fire
If you call 911 to report a fire, the most important information to convey is the location of the fire. Letting dispatchers know exactly where the fire is happening can help them send the correct emergency services and help stop the fire quickly.
Some common things to include in your description of the fire include:
Building type, vehicle or grass

Size of the fire

You can estimate using commonly know sizes such as a football field, vehicle size, parking lot space, bedroom, or grocery store!

Nearby structures that may be in the path of the fire.

Important to tell dispatchers what is close to the fire so they can properly alert occupants.

If anyone is inside the house or building that is on fire.

If anyone is injured or needs medical attention.

The color of the smoke and flames.
E-911 Joint Services Board
Members
Chair: Sara Seifert, Truman State University
Vice Chair: Don Crosby, City of Kirksville
Mari Macomber, City of Kirksville
Scott Williamson, City of Kirksville
Brad Ray, Adair County Commission
Lacy King, City of Kirksville
Katherine Probst, Adair County Ambulance District
Danica Collinge, Adair County Sheriff's Office
Jeremy Davis, Adair County Fire Department
Meetings
E-911 Service Board meets the second Wednesday every other month at 1:30 pm in Conference Room on the second floor at City Hall.
February
April
June
August
October
December


Contact Information
Emergency: 911
Non-emergency: 660.665.5621
Jon Cook, Fire Chief / E-911 Communications Director
jcook@kirksvillecity.com
E-911 Joint Services Reports & Minutes